Using Your Biofeedback Headband in 3 Simple Steps

How SleepGuard Partners With Your Subconscious Mind
The SleepGuard biofeedback headband doesn't get you out of pain all by itself. It partners with your subconscious mind, so you instinctively stop clenching every time you start, and that gets you out of pain. You do a few minutes of practice each day while awake, that creates and strengthens the part of your subconscious that will work with SleepGuard to stop your clenching and get you out of pain.
Painful TMJ symptoms almost always come from a nighttime teeth clenching habit. That habit is there because part of your subconscious mind has grown to like clenching during sleep. That part of your subconscious finds the sensation of clenching soothing. It thinks it is helping you. Your subconscious doesn't realize that clenching that feels soothing during sleep causes damage, and feels painful while awake.
Just Like the Brake Lights on the Car in Front of You…
After you train a new part of your subconscious mind to relax your jaw each time the quiet RelaxTone biofeedback sound is heard, SleepGuard acts like brake lights for your clenching and grinding. When brake lights come on in front of you while you are driving, that signals your subconscious to step on the brakes to avoid an accident. You don't even need to think about it, because your subconscious has been trained .
Think of your SleepGuard headband as a brake light that detects when you clench, making a gentle RelaxTone sound to remind your subconscious to relax your jaw. Because the sound is so soft, it can let you stop your clenching without waking you or your partner. You can even adjust the volume to create the ideal level of sound for your personal desire. After a little practice responding to the sound, your subconscious is able to respond while you remain asleep, because your brain learns that responding quickly and cooperatively keeps you safe.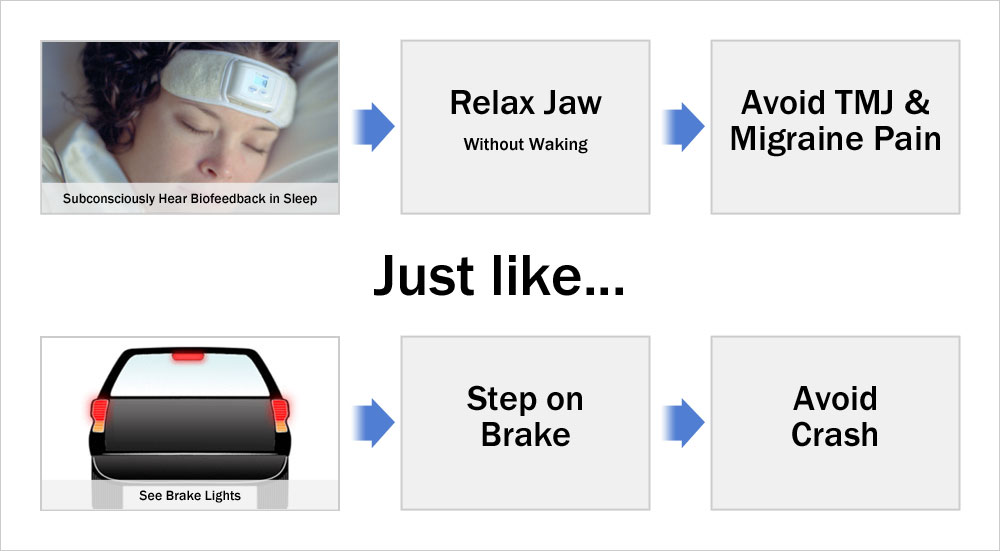 How You'll Learn to Stop Clenching As You Sleep
When the SleepGuard biofeedback headband detects that you are clenching your teeth, it makes a gentle RelaxTone sound that reminds your subconscious mind to relax your jaw muscles. After a little practice responding to the sound when you are awake, you will be able to instinctively respond in your sleep without waking up. The SleepGuard biofeedback headband not only provides biofeedback, it also tracks how many times you clench your teeth each night, as well as the total number of seconds you clench. This will allow you to see how much your clenching is reduced over time.
Just Two Minutes of Practice Per Day Lets You Respond While Sleeping
Below are the key aspects of the daily practice that teach your subconscious to relax your jaw quickly and cooperatively each and every time you are signaled in your sleep.
With the headband on your head, you briefly clench on purpose just long enough to hear the quietest beginning of the RelaxTone sound
As soon as you hear the first quiet part of the RelaxTone sound, relax your jaw, close your eyes, and gratefully let go of any thoughts that had been in your mind
Imagine yourself instinctively relaxing, letting go of whatever dream you are having, and going into deeper sleep every time you hear the RelaxTone biofeedback sound while sleeping
Imagine yourself waking up feeling relaxed and refreshed
SleepGuard Measures Your Nightly Clenching and Grinding, So You Can Track Your Progress
During the first few days of using the SleepGuard headband, you wear it at night with the sound turned off. This will allow you to measure your initial (baseline) average clenching level. When you wake up each morning, the user friendly display will show you how many times you clenched, along with the total number of seconds you clenched.
The User-Friendly Display Offers Everything You'll Need
The head band was designed to be easy to use and features a small electronic module that allows you to select a custom conditioning program to best suit your needs. The SleepGuard module is easily controlled with just two buttons, making it simple to use. These user friendly controls allow you to adjust your preferred volume and the level of clenching required to trigger the RelaxTone sound.
The display can show:
Your Clenching Score – Number of times you clenched since you last reset the unit
Your Total Clenching Time – Total duration of tissue-damaging clenching since you last reset the unit
Personalized Volume – Volume of the RelaxTone biofeedback sound
Your Bite Level – How hard of a bite it takes to trigger the RelaxTone biofeedback sound

Adjustable & Hypoallergenic Headband for Your Comfort
The comfortable, size-adjustable fabric headband includes two conductive silicone rubber sensor pads (like those found on a heart-rate monitor), which rest gently against your skin. By sensing tiny EMG signals given off by your clenching muscles, these sensor pads allow SleepGuard to measure how hard you are clenching. The headband is fully adjustable for all head sizes and is hypoallergenic.
RelaxTone™ Ensures You & Your Partner Sleep Soundly
RelaxTone™ is a patented innovation of SleepGuard. The RelaxTone biofeedback tone is transmitted from your forehead to your inner ears by bone conduction, meaning the sound actually travels through the bone in your head to reach your ears. The advantage of bone conduction is that you are able to hear quiet tones much better than someone sleeping next to you. This allows for lower volumes that won't wake your partner, and eliminates the need for an uncomfortable earpiece that could interfere with your own sleep.
How Does the RelaxTone Biofeedback Work?
The RelaxTone sound starts off very quiet, and then goes up to the volume you set if you don't relax your clenching muscles.